Learning The Jack Ma Way
Jack Ma's first generation success has learning's for every entrepreneur.
He is a true genius as he can simplify complex things to very easy to use ideas.
When it came to business growth, " Jack Ma said " If Alibaba doesn't get bigger and more successful than Walmart or Microsoft, I will regret it for the rest of my life. Our predecessors invested in us, it is, therefore, our (this generation's) responsibilities to do better than them."
One of the most influential people who said about doing something in life: "If you don't do it, nothing is possible. If you do it, at least, you have the hope that there's a chance."
 [soliloquy id="2417″]
Learn from Jack Ma & His Quotes
What life lesson did you learn the hard way?
Do you ask enough questions or do you settle for what you know?
Learning from Leaders and their quotes is different; you learn as well as you get motivated, especially when someone has failed only to succeed over all his hardships.
Opportunity Lies in the Place where the Complaints are.
Last few most significant business have grown out of nothing, to biggest brands, because of solutions they gave. Take ALIBABA itself, made shopping convenient; APPLE, make technology reachable and exciting to consumers; TESLA, made electric cars reachable and environment-friendly and the list goes on.
If there are nine rabbits on the ground and if you want to catch one, just focus on one.
Value Investing is all about finding opportunities, but being carried away by all of them you would get nothing. Focus!, look at one opportunity, make fewer bets and bigger bets.
Opportunities would keep coming; focusing one at a time is more important. If you are distracted by too many chances, you will not get any at all.
Today, making money is very simple,. But making sustainable money while being responsible to the society and improving the world is very difficult.
Scouting only for companies which make money could make you productive, being rich, is the leading question. Looking for moats, sustainability should be one of them.
Sustainable money is more important than getting rich, how many lottery winners you know how lost all their money just before their retirement started.
The very Important thing you should have Patience.
The faster the money comes, the quicker it goes. Every other person who comes to me for consultancy is looking for opportunities to make money fast. They want every right in their hand effortlessly.
Companies those have made huge money, a short period, promising incredible growth, management taking a high risk should be considered for re-evaluations.
You should learn from competitors, but never copy. Copy and you die.
Business especially those you are taking private equity investing should consider this fact. In a fierce competition if your investments are copying from their competitors sooner or later they are going to perish. Sustainability comes from being uniquely better rather than same wine in a different bottle.
Business models, Marketing Strategy [strategies], Financial Prudence, Operational Efficiency & Sustainability; across all management verticals this applies.
You need the Right People with you Not the best People.
Companies at the top rarely have the best people with them, though they have the right people. While investing this points might seem out of context, but in long-term, your real asset is your employees. The meaningfulness of this can be realized during scuttlebutt of companies.  When you got to choose from the top ten who are competing with each other. These more delicate points make a huge impact, at least, in value investing.  Realised during scuttlebutt of companies.  These more delicate points make a huge impact, at least, in value investing.
I try to make myself happy because I know that if I'm not happy, my colleagues are not happy and my share holders are not happy and my customers are not happy.
If you were to only invest with fundamental financial screeners, I doubt how long the investment would sustain. Structural analysis and technical analysis is the starting point of stock analysis.
Real company analysis starts with nuances, one of the Indian Industrialist JRD Tata indeed said, "I want India to be a happy country, not a superpower." When happiness floats across one company over other, you know whom to choose.
Last time when I spoke to a companies management discussing with their subordinates, they wanted to compete with service and innovation and not on the price the reason they mentioned was, "You would not need us to compete on price, rather only on service and innovation"; a pleased company stands together during the time of adversity to jump back.
I find that when a person makes a mistake or fails, if he or she always complains or blames others, that person will never come back from failure. But if the person checks inside, this person has hope.
Innovation is a result of experiments. Experiments can go right and can go wrong. Mistakes happen from everyone, how the management treats the mistake is very important, if they start blaming their employees this is going to dwell deep down till the floor cleaner.
Nevertheless, accepting mistake which is tough to do, those are the companies which will go a long way in future. This is the main reason I attend organizations annual general meeting. When the management talks about the company, you realize how one companies management is different from another.organisations annual public meeting. When the management talks about the company, you understand how one companies management is different from another.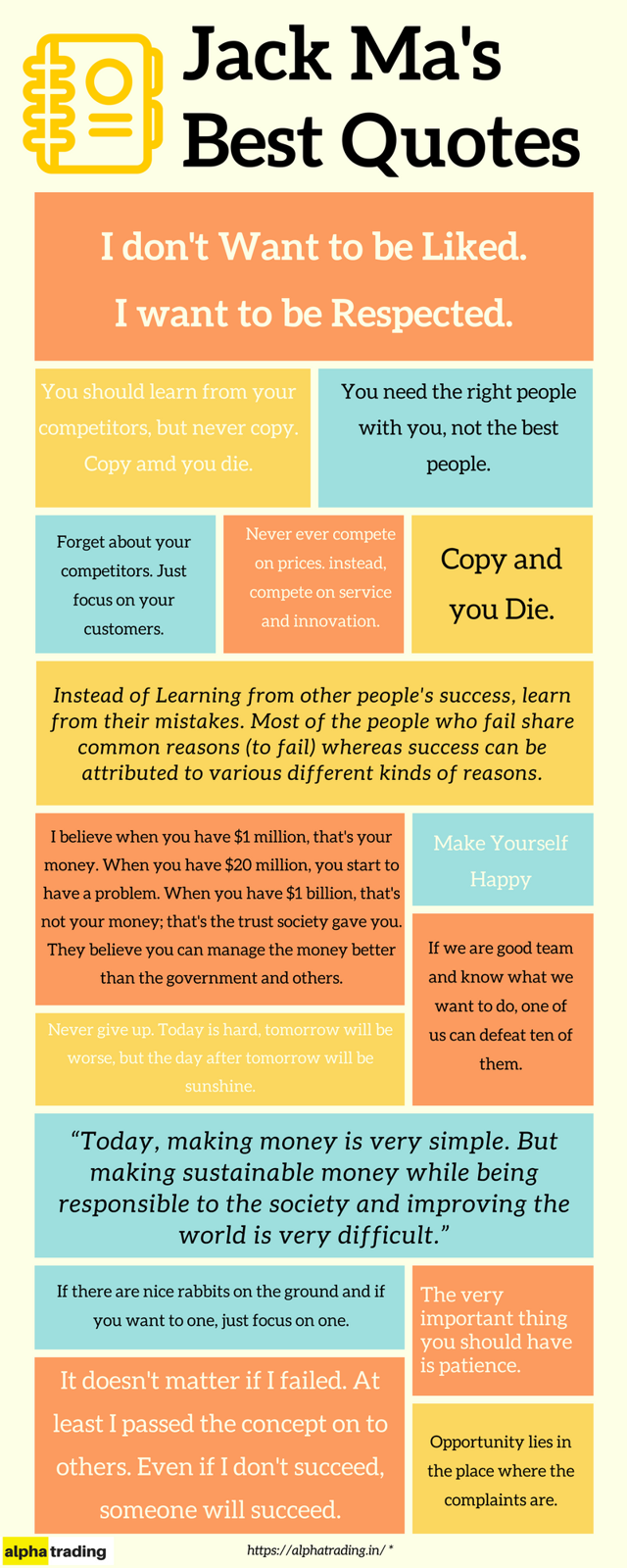 Concluding
"When KFC came to China, 24 people went for the job; 23 people were accepted – I was the only guy," – Learnings from the wealthiest man in Asia who had a humble beginning. Only few can think of coming out from such a situations.
I Believe that investing is an art more than science. If it were science then why haven't robots succeeded in creating wealth?
A different version of this article was published in Seeking Alpha How To Find Investment Ideas The Jack Ma Way.
Like everyone, I am sure you would be inspired by reading this post. I would feel happy even if you can implement one point that you are convinced about.
Best things happen in the comment section. Looking forward to hearing from you.
Anyways hit the like and share button if you have enjoyed this post, I'd be very grateful if you'd help it spread by emailing it to a friend, or sharing it on Twitter or Facebook. Thank you!